Sometimes there's nothing better than finding the perfect outfit or accessory to match your current mood, an upcoming event, or even your overall personality. However, maybe you don't want to wear someone else's design or concept of who you are. That's why you need projects that take your clothing to a completely new level and truly customise your wardrobe. If you're not the world's best sewer or designer, may we suggest an alternative with transfer paper? It's a fun and easy way to make t-shirts, caps, aprons, hoodies, and tote bags your own.
Personalise Your Clothes
Say you love graphic design, and you find finishing a creation that astonishes even you. Fiddling around can lead to some truly amazing results that you may not have even thought yourself capable of doing! Or, maybe you have a photo that you took on your last holiday of some gorgeous scenery, an attractive local attraction, or even just a weird piece of art or building that you came across on your travels. Rather than just storing it all in a file or even turning it into your desktop wallpaper, turn it into a display that you can take everywhere so everyone can see it.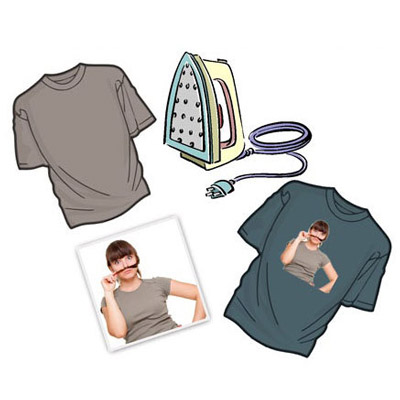 DIY Designs
With iron on transfers, you can take a household iron and apply the heat to special paper that will transfer your design onto the fabric. You'll need an inkjet printer to complete the process, and you should be employing the heat press application for best results. Choose when you want to remove the transfer paper depending on whether or not you're looking for a matt or semi-gloss finish. You can find all of the details with the instruction manual that will come with your package. Blank Clothing has value packs of this easy-to-use iron on paper that will allow your vision to become a reality. You can also see a video on the product pages for additional information and a hands-on demonstration.
You have the option of using light-coloured or dark material so your designs come through in vibrant colour. Once you're done with the process, you'll need to let your creation rest for 24 hours before you wash it. Do not tumble-dry or the finish may be damaged. Typically, your work of art will stay bright and last for about 20 washes, which is good considering you're wearing something of your very own. (And guaranteed that no one at the party will have anything as cool as you will.)
Blank Clothing in Australia sells wholesale clothing online of all kinds both in bulk and individually. Express yourself by making any of our products fit who you are with lots of personalized options. Try it once to see how it all goes. You may find yourself becoming addicted to this easy and fun craft.