What Is Tri-Blend?
Meet one of the smoothest, most luxurious garments in the industry. A blend of cotton, polyester, and rayon, Tri-blends boast the comfort of cotton, the strength of polyester, and the silky soft drape of rayon.
Tri-blend clothing has become super popular, with it's relaxed street style. Perfect for every day wear to the working out due to it's breathability and comfort. Tri blends keep body temp cool, making this fabric the go-to choice for gym wear.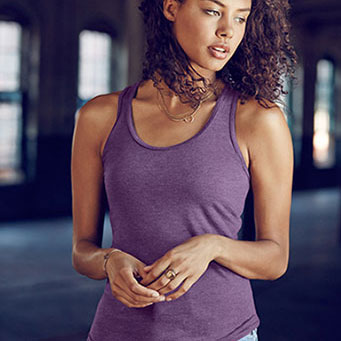 Cotton: breathable & comfortable.
Polyester: smooth, shiny, resilient. Polyester is a tough, yet lightweight fabric that combat wrinkles
Rayon: soft, excellent drape, that absorbs sweat and wicks away, while reducing pilling.
Tri blend garments are fantastic for tshirt designers that are going for a vintage style print, high fashion, and sporty look. These apparel will have a faded/vintage outcome with DTG printing due to their looser weave and fabric combination.They can be more challenging to screen print due to their delicate nature. They are perfect for a more vintage print with a delicate touch.