It's time to relook at the way we see the ol' tea towel. It's not just some boring, practical kitchen accessory that signals it's time to do the dishes. After moving out of home, you realize how much you take Mr. Tea towel for granted. I remember receiving a few tea towels as a prize at a kitchen tea party. At the time, I didn't time much of it. But to this day, I'm still using those tea towels! My point being, they are a totally useful gift, everyone needs (or maybe they need to replace that old stained one) in their kitchen. What's the perfect way to give someone a tea towel as a present? Turn them into an eco-friendly gift-wrapping "paper." Goodbye paper wastage :)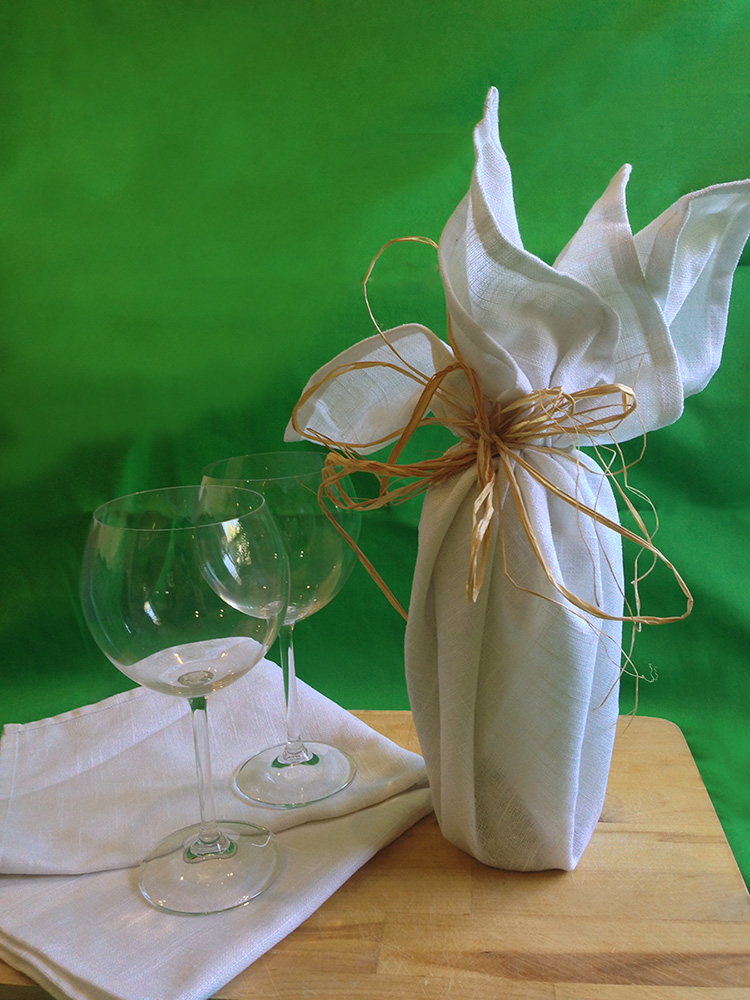 Above: We used the linen cotton tea towel to wrap a bottle of wine.
The tea towel is one of those classic hostess gift. For the wine lover friend, complement your gift by wrapping a tea towel around a bottle or two. Not into wine, choose condiments that complement each other in some way - a bottle of olive oil and a bottle of balsamic vinegar, or what about a jar of jam or some pickled chutney. Simply fold the towel around the bottle/jar and secure to the bottle with baker's twine or ribbon. Finish!
If you are wrapping two bottles, set teatowel on table with a corner pointing up. Lay bottles down, one-quarter of the way into the diamond-shape towel; each should be 3 inches from the vertical center, with bottle necks facing out. Wrap triangle of fabric closest to you around bottles. Roll bottles away from you, leaving a small triangle at the top end. Finish off by taking hold of ends of material on right & left sides, lift them up, and knot them loosely, being sure bottles can stand upright. Tuck the triangular flap between the bottles.
If you didn't want to go down the path of perishable goods, you could wrap scented handmade soaps, a cookbook or some utensils with a tea towel, add a beautiful ribbon and your done! A simple rustic, homely gift that is super practical as a housewarming gift, a kitchen tea party present or maybe a teacher's gift.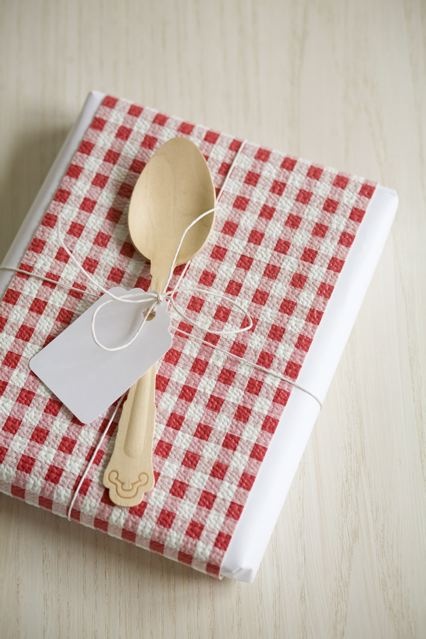 It's such a simple but great idea, that equal two pressies in one!
Bonus: Personalise your tea towels with some DIY stamping, embroidery or some iron on printing.