It's normal to pack on the pounds during the winter. The cold and the dark just make is so hard to get out of our pyjamas to hit the pavement, and we generally all give ourselves a bit of a pass. Then summer rolls around and all of a sudden, it seems too difficult to exercise in extreme heat too. So what are you, a health-conscious citizen, to do? Well, it won't solve all your problems, but having the right gear can really help.
Set the Stage
Having the right conditions can sometimes be the difference between taking action and getting another ice cream cone from the freezer. It takes effort, but you will not regret living a healthier lifestyle. So even just putting on a t-shirt, shorts, socks and tennis shoes can put you in the mindset that it's time for exercise. The Billy polo shirt has mochmesh material that keeps you dry and comfortable as you run your route or lift some weights, which can make the time you spend and energy you exert as little easier to handle. As you continue practicing healthier habits, you may be surprised at just how much work you'll actually want to put into it. Next time you have no interest in moving, try just getting dressed. More likely than not, that first step will be all you need. Even if you don't end up going out, it might motivate you for next time.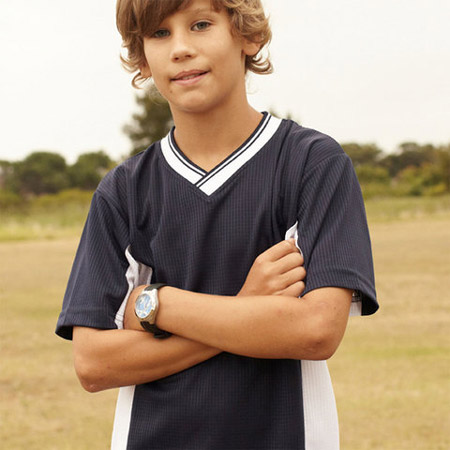 Getting Your Family In On It
Blank Clothing in Australia wants everyone to feel as best as possible in their clothes. We sell wholesale clothing online for the whole family (men's, women's and kid's clothing), and we encourage togetherness by offering iron on transfers which can allow families to have the same shirts which help to create a team feeling. Try making a simple walk more special with customised shirts. Alternatively, get half the family in one type of shirt or shorts and the other half in a different colour and then go play a friendly game of soccer in the park. You can use iron on numbers on the back of the t-shirts or even on matching caps. Use their age or their favourite number as inspiration to make it more personalised to them. Midfield offers a soccer jersey that would be perfect either for a summer team or just for your impromptu family one. Kids need to run around and get out all that excess energy, so don't let them stay cooped up!
A Few Reminders
Being prepared also means thinking ahead. Keep the sun out of your eyes with trucker hats or baseball caps, and make sure you bring a sports bag with all your gear so you have everything you need for a good experience. Having extra socks, towels and water bottles can make you feel ready to face the sweat and feel the burn, which means that you'll be that much more likely to go out and do it again. Getting a better body is just gravy.