We're big fans of those lil' (superfood) chia seeds. They are packed with lots of great health benefits such as being high in protein, fibre, calcium, antioxidants, and omega-3s. They are best consumed after being soaked in liquid as they expand multiple times their size in water and help you feel full for longer.
We found this great, simple recipe that makes the perfect breakfast for cold mornings, as a fast healthy dessert fix! Use your favorite dairy (we tested this with just regular milk) or non-diary milk—coconut, almond, soy, etc - and feel free to experiment with your favourite fruit and spice. For example, try fresh peaches and cardamom, or plums and nutmeg.
Healthy Apple-Cinnamon Chia Seed Pudding
Recipe type: Breakfast
Prep time: Cook time:
Total time:
Serves: 1-2
Ingredients
2 cups unsweetened dairy or non-dairy milk
½ teaspoon vanilla extract
⅔ cup chia seeds
2 tablespoons unsweetened coconut flakes
2 apple, cored and chopped
2 teaspoons cinnamon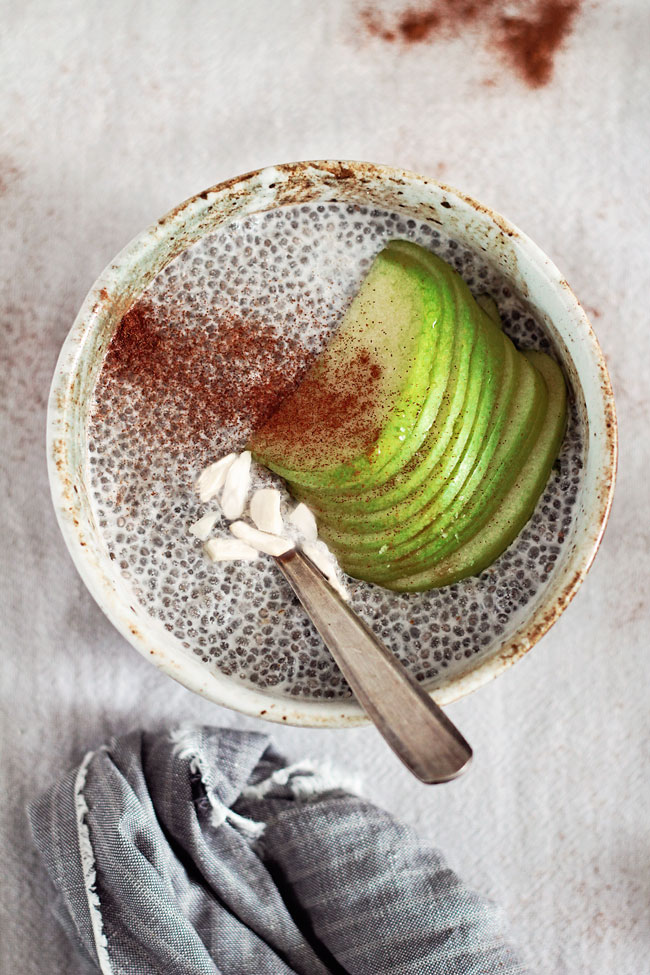 Instructions
For warm chia seed pudding, place milk and vanilla extract into a saucepan, and warm over low heat for 2 - 3 minutes. The milk does not have to be boiling hot, just warm enough for your taste. Add chia seeds to a cereal bowl.
When the milk is warm, add the milk to bowl of chia seeds.
Stir continuously for about 2 minutes while the chia seeds absorb the milk. Allow the mixture to sit for 2 to 3 minutes.
Top with coconut flakes, apple slices, and cinnamon.
Note: If you do NOT want warm chia seed pudding, simply add the milk to bowl of chia seeds. Stir until the chia seeds have absorbed the milk (about 3 to 5 minutes). Then top with coconut flakes, apples, and cinnamon.
Original recipe found over at
Hello Natural