Casual office days can feel like a minefield especially since you know that everyone still wants to impress in the office regardless of what day it is. Unless you wear a uniform to work, choosing what to wear can feel like just another decision that you don't want to make. If you've had a long week at work, you likely just want to make it to the weekend without having to worry about whether or not 'casual' just means 'skip the tie.' Polo shirts are both comfortable and look professional without making other co-workers feel like you're trying to upstage them. When you aren't required to wear a pantsuit or three-piece anything, then reach for our polo shirts for women or men.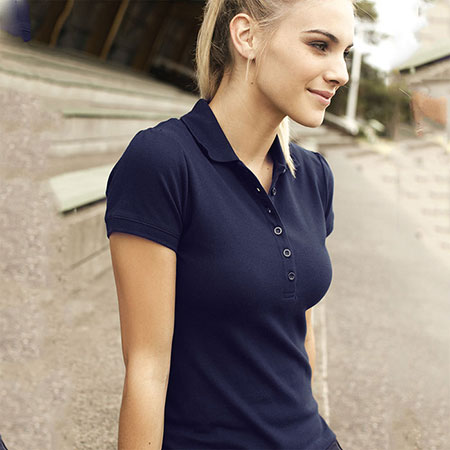 Soft and Stretchy
Classic polo shirts make office situations far more comfortable and can help keep you feeling cool and calm. The CHLOE fashion stretchy female polo contains 10% spandex material, meaning no matter how you're feeling or what you're doing that day, it will conform to your shape. Button collar makes it ideal in even the most conservative of offices.
More Choices
Blank wholesale clothing online offers a varieties of colours, materials and sizes for both men's and women's polo shirts. You can find the right style, shape and tone for your body type, depending on what you want. Best of all, they're inexpensive so you can buy cheap polo shirts in bulk for all of the casual Fridays to come. Long-sleeved polo shirts are available for chillier days or the most heavily air conditioned boardrooms in Australia.
Outfit Your Team
Our clothes can be customized for all of your office workers. Imprint your company logo in a variety of designs to shake up casual office days. You can have different divisions wear them on different days or give them away during corporate parties. If you're a manager, you can let people wear polo shirts on any day of the week if it's company themed. If you're lucky to have an office environment that is business casual everyday of the week, then this can especially come in handy if you have the marketing team wear them on Mondays, the tech people on Tuesday, etc.
Versatile for Your Weekends
Polo shirts are perfect for a day on the lake, a social picnic, or even a summer daytime party. We have kid's polo shirts for sporting events, so that they can stay focused on their next moves. They're easy to wear and you'll still look organised for even the most discerning of guests. For the sporty men amongst you, we have the PASSION | CoolDry Short Sleeve Contrast Polo that contains polyester mockmesh that is not only breathable, but helps draw sweat away from the body.
Blank Clothing doesn't have a minimum order requirement, so order as many or as few as you need. We are constantly updating our selection, so if you don't find the colours or styles you want, then be sure to check back soon. We also have reasonable shipping rates so you can get your clothes quickly without breaking the bank.