Having a child is beautiful, but it comes with its own set of downsides as well. Your beautiful closet, the one you spent so much time filling with care, is no longer accessible to you. Pants become more and more difficult to button, and shirts that you may have originally thought were 'just a tad too tight' can be stretched out to the point of damage seemingly overnight! Don't skimp on your wardrobe during this special time with borrowed clothes! Customise your look with adorable dresses or stylish shirts in comfortable fabric from the fantastic range at Blank Clothing. Buying maternity clothes are just another perk so you can feel as gorgeous outside as you do inside.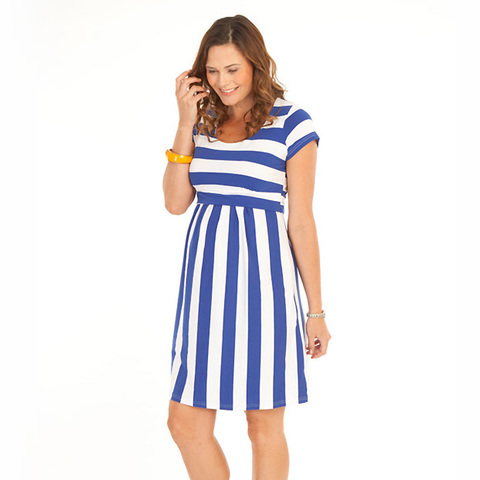 Blousing It Out
Some of the cutest outfits for pregnant women stem from being able to wear dresses that drape over your bump but still show off your legs and the rest of your body. This striped dress from This stripe maternity dress is simply stunning, and makes a perfect choice for picnics and summer parties. You can use it after you've had your baby too, as it comes with a nursing layer that's cleverly hidden from view. Alternatively, this black dress from Bayo is slimming, elegant and sexy, and can be worn for cocktail parties or date nights. Looking lovely when you leave the house and feeling confident with whom you are is a priority you need to make. When your body changes so drastically, it's bound to be accompanied by a variety of feelings — even when you know your condition is temporary. Being aware of this and planning ahead can help you sail through challenges if you don't love what you see in the mirror.
Professional and Personal
Blank Clothing in Australia also has clothes to keep you comfortable both in the workplace and at home. Tops from brands like Sansa, Clara, and Franny are all designed to give you the fashion choices you crave during every season. Styles tend to be on the more simplistic side, which gives you the option to dress them up or down with your jewellery or accessories. Being relaxed when you're pregnant is good for both you and the baby, and your clothes play a big role in how you're feeling. Having fabric you love and styles that aren't too constricting should be a priority for you during this time. That doesn't mean that you have to be boring though! We have clothes on the funky side that are even a little shocking like these faux leather pants which can spice up your look in all the right ways.
Check out our selection of nursing clothes too that can make heading out much easier with your baby, so you're prepared for anything. Buying wholesale clothing online means you're saving your money for your baby, but also taking care of yourself too. It really is the best of both worlds, and Blank Clothing has an incredible selection for the entire family!