Pregnancy is such a temporary condition that it can be infuriating to see how much maternity clothes can cost. Unless you're lucky enough to know someone who was recently pregnant AND happened to be your size AND had the same taste in clothes, you don't you really have much of a choice but to shell out some cash. Buying the right stuff helps you feel good which helps increase your self-esteem. This is always a smart move but it's especially important during a stressful time like a pregnancy. Do it without breaking the bank!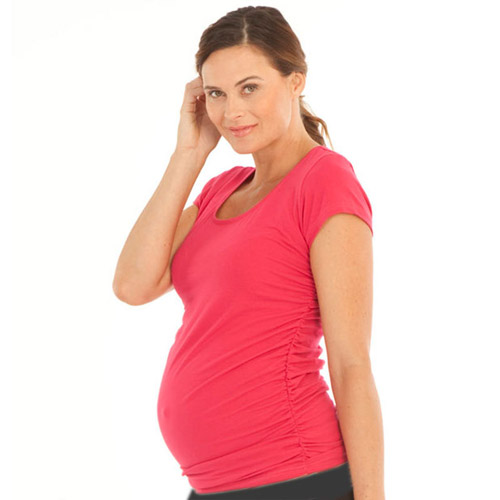 Show It Off
It can be a little fun to accentuate your belly during this magical time. Your whole body is changing, and there are definitely some benefits that come with it. Evita makes short-sleeved, hugging t-shirts in bright colours that won't ride up. They're soft with gathering sides that help you feel feminine and confident. If you want to be a bit more modest, then check out basic white nursing top that features adjustable clip release and comfortable material for your body. It also features a discreet opening to easily nurse after the wait is over.
Stay On Top Of Your Game
Blank Clothing has lots of different fashions in women's clothing for you during this magical time. You can find clothes that are stretchy and roomy enough to accommodate you as the months pass. Check out this maternity nursing dress by Lane with bright blue and white stripes. You can easily use the measuring chart to get the best size for your bust, hip and both your high and low waist. You can use it both before and after your pregnancy, as you can easily nurse with a convenient flap in the material. Stylish and practical, you'll find something to fit your taste and your body.
Comfort Everywhere
You can also find fashion in pants when searching for cheap maternity clothes. Navy makes a jegging that conforms to your bump comfortably. You can wear it with heels or flats for a night on the town, complete with mocktails and dancing. It has a low V-cut waist, so you won't feel like you're ready to burst. No matter how you want to mix and match your maternity clothes, you can do it with Blank Clothing without breaking your budget.
Clothing for the People
Blank Clothing wants to supply smart fashions for the stylish in Australia with wholesale clothing online. Just like we can outfit women of all ages and in all conditions, we also have men's clothing and kid's clothing for a variety of occasions and needs. Anything from polo shirts to hoodies can be found on our pages, and you won't be disappointed with our vast collection. Our category pages are easy to navigate, and it's easy to search by size or style.