Hoodies have become more and more popular throughout the years making them a smart investment for storeowners to keep in stock. While on the surface they may just appear to be the same thing as sweatshirts, they actually have a different form and shape. The style generally makes them more acceptable and fashionable to wear in public. They look great on both girls and guys alike, and they're both comfortable and functional. During light rains or chilly breezes, they can keep hair dry and ears warm in the often unpredictable weather in Australia.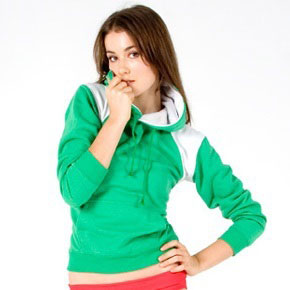 Versatile Clothing
If you run a clothing shop, stocking different styles is your best bet to getting people hooked on both wearing hoodies and buying them through you. Small girls might want to emphasize their tiny figures through slim-fit, heavy blend hoodies, or larger guys might prefer a style that zips up so it's easier to get on and off like our fantastic range of Mens hoodies. Everyone has their own reasons for buying and loving their clothing, and of course, you'll start to see what your customers favour and what they don't. Hoodies are great for exercising outside during the wintertime, hanging out around the house, or going to any casual place. Cute, cosy and versatile, you can see why they are growing in popularity.
If you're looking for hoodies online, then check Blank Clothing first for different fabrics, materials, fits and styles like 2-toned hoodies in a variety of sizes and colours. We have frequent sales so check back occasionally to see what's new on the website. Cheap gym clothes are always items that people can use, particularly because there are only so many times you can wear something in relationship to when you do laundry. Having many types of the right kind of active wear can help encourage people to get out, regardless of how cold it is outside. People have a hard time planning ahead, but reminding them that having variety can help keep them properly outfitted no matter what they want to do can prove to be a smart business strategy.
Blank Clothing Hoodies
If you're searching for quality wholesale clothing online, then try Blank Clothing. There are no minimum orders to buy so even if you just wanted to see how one or two styles sell, you can feel like you're not taking too big of a risk. Alternatively, if you just need to find a few men's gym clothes online, then we have many things to choose from. In addition, hoodies make great premium items for corporate giveaways or other promotional materials. All of the hoodies are manufactured without a logo, but can easily be customized for whatever event you need. These will definitely be the some of the most coveted things you can giveaway due to the thicker fabric and higher value. Our website gives you an easy way to calculate what you'll pay for shipping, depending on your location, and we offer free shipping on orders over $500.