The sun is out and it's time to get outside and enjoy the weather! For parents with kids, this can mean a struggle to figure out what to put their little ones in so they can be comfortable, stylish and safe. That's why we have compiled a list of fun and stylish outfit ideas for kids that don't sacrifice comfort for fashion. From coordinating accessories to lightweight fabrics perfect for keeping cool in the summer months, you'll find all the inspiration you need here to help your kids look their best while enjoying a sunny day. Read on for our top picks!
Choosing the right outfit for your boy
When it comes to choosing the right outfit for your boy, there are a few things you need to take into consideration. The first is the weather. If it's a sunny day, you'll want to dress him in something that will keep him cool and comfortable. A pair of kids shorts and a kids t-shirt is always a good choice.

The second thing to consider is what activities you'll be doing during the day. If you're planning on spending time outdoors, make sure to dress your boy in clothing that won't get too dirty or wet. A pair of jeans or khakis would be a good option.

Finally, you'll want to take into account your boy's personal style when choosing an outfit. If he likes to dress up, go for something a little more formal like slacks and a button-down shirt. However, if he prefers a more casual look, stick with jeans and a kids polo shirts.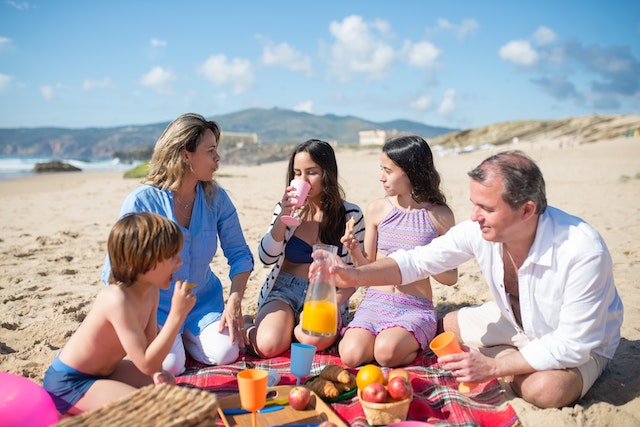 Photo by Kampus Production

Some combinations to consider:

1. A basic T-shirt and shorts combo is always a good go-to for a boy. You can dress it up with a cool patterned T-shirt or keep it simple with a solid color. Add some sneakers and he's good to go!

2. If you want to add a little bit more style, consider layering a button-down shirt over the T-shirt. This looks great with distressed jeans or chinos. Add some loafers or boat shoes and he'll be set!

3. For a cooler weather option, pair a sweater with joggers or cords. This is comfortable and stylish at the same time. Finish the look with some sneakers or high tops.
Outfit ideas for girls
On a sunny day, there are few things more stylish than a well-dressed kid. But with so many options available, it can be hard to know where to start.
As the weather gets warmer, it's time to start thinking about what to wear on those sunny days! Here are some fun and stylish outfit ideas for girls that will help them enjoy the nice weather while looking their best.

For a casual look that is still put-together, try pairing a striped tee with some denim shorts. Add a pair of sandals or sneakers and a cute sunhat, and you're good to go! If you want to dress things up a bit, try a sundress with some pretty jewellery. Again, add a pair of sandals or sneakers and a sunhat for the perfect look.

For something a little more unique, try pairing a patterned skirt with a solid top. Add some fun accessories like bracelets or necklaces and strappy sandals. This is sure to turn heads and get compliments!

Whatever your style, there is an outfit idea here for you. So get out there and enjoy the sunny weather in style!
To make things easy, we've put together a list of our top favourite sunny day outfit ideas for girls.

1. A pretty sundress is always a good choice for a sunny day. We love this floral option from Janie and Jack.

2. Pairing a denim skirt with a tee is an easy way to get a put-together look that's still comfortable enough to play in. We like this option from The Children's Place.

3. For something a little more dressed up, try pairing shorts with a blouse and cardigan combo like this one from Gap Kids.

4. If you want to go all out on the fashion front, try a romper or jumpsuit like this pretty option from Old Navy.

5. Don't forget about accessories! A cute pair of sunglasses or sunhat can really take an outfit up a notch. We love these cat-eye sunglasses from Justice.

6. Finally, don't forget comfortable shoes that can stand up to a lot of running and playing. These sandals from Stride Rite are perfect for keeping up with kids on the go.
Tips for accessorising kids' outfits
When it comes to accessorising kids' outfits, less is usually more. You don't want to overwhelm them with too many choices or complicate their outfit with too many layers. Instead, focus on one or two key pieces that will complement their look.

For girls, a pretty headband or hair clip can be the perfect finishing touch to an outfit. For boys, a trendy hat or pair of sunglasses can add some extra style. And for both genders, a cute pair of shoes is always a good idea!
How to make sure your kids are comfortable in their clothes
Making sure your kids are comfortable in their clothes is important for a number of reasons. First, if they're not comfortable, they're not going to enjoy their day as much as they could. Second, if they're not comfortable, they may be more likely to suffer from heat exhaustion or dehydration.

Here are a few tips to help you make sure your kids are comfortable in their clothes:

1. Dress them in light, breathable fabrics. Linen and cotton are great choices for hot weather. Avoid synthetic fabrics like polyester, which can trap heat and make your child uncomfortable.

2. Dress them in loose-fitting clothes. Clothes that are too tight will restrict movement and prevent air circulation, which can lead to discomfort.

3. Have them wear a hat and sunscreen. A wide-brimmed hat will protect your child's face from the sun, and sunscreen will protect their skin from harmful UV rays.

4.Make sure they stay hydrated. Encourage your child to drink plenty of fluids throughout the day, especially water. Avoid sugary drinks like soda, which can contribute to dehydration.
Final thoughts on summer clothing for kids
When it comes to dressing your kids for a sunny day, there are endless possibilities. However, it's important to keep comfort in mind. Lightweight, breathable fabrics are key for keeping your little ones cool and comfortable all day long.

There are plenty of stylish and practical summer clothing options available for kids clothing of all ages. From cute sundresses to trendy swimwear, you can find everything you need to help your child enjoy the warm weather in style.