Posted by Ewnice on Jul 02, 2014
Who didn't love potato stamping when they were little? It is such an easy DIY craft to redo as an adult. Since I was helping at a community fair, I thought it would be a great way to test this out with some table cloth covers.
It was a really easy project that didn't take longer than a few hours (most of it, just prepping and drying)
All you need is:
Potato
Knife
Paint
Fabric (we're using the sarongs from blankclothing)
Newspaper
Cardboard (anything non-absorbent will do)
Plate

Optional material
Iron
I used some white linen sarongs from Blank Clothing and iron them flat. I placed some newspaper under the clothe just in case (plus my linen sarong is quite a sheer fabric.) FYI: I also did this in the laundry just in case of any accidents.
Cut potato in half and cut out your design. It does help to draw on your design with a pen (this was a little harder than I imagined as the potato was wet and didn't absorb the pen ink.) I used an old art scalpel blade for more precise cutting.
Put some paint on a plate (hint: spread it out thin) and press your potato stamp lightly into the paint.
Next lightly stamp onto a cardboard to remove excess paint and for a lighter "stamp pattern." This is the best tip for a cleaner result. As my first few attempts were too wet and sploggy.
Create your design!
Hang to dry & your done :)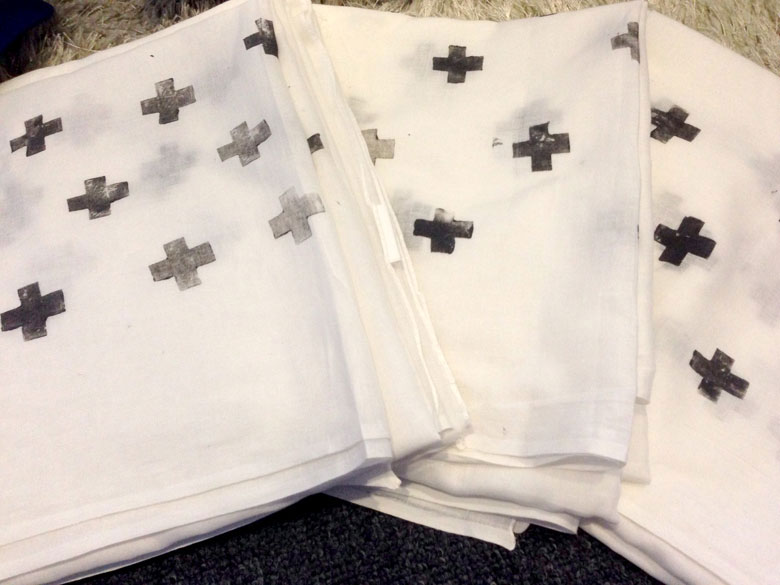 How easy is that? It was very satisfying having a little project you can complete within a few hours. I was very happy with the results.
You can stamp on anything from tshirts to aprons and hats! The list is endless. Just use a fabric paint if you want to wash the item in the future.