A bouquet of baby sock roses is a cute pressie for expecting mothers and baby showers. You can never have enough socks for the little one, as they get lost or they double as hand gloves. A fun DIY job that has a great wow factor when you're presenting it, instead of wrapping your gifts in paper or a gift bag. A few rolls & twists and you will have made a pile of rose buds to make your bouquet! Create some for even a gift topper, corsage, or fill a small bucket/flower pot. This could make a great baby shower decoration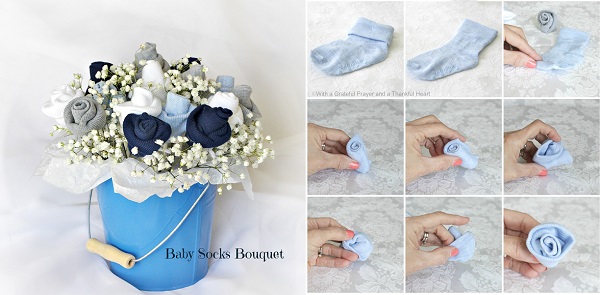 Baby Socks Bouquet
Supplies:
Baby socks. (8 pair of infant socks to make 16 roses)
Ribbon (matching or contrast)
popicle sticks for stems
Container for arrangement (e.g. bucket, flower pot, vintage baby plant holder, wooden box)
Real or silk flowers or leaves
Floral foam (you know that green stuff you can get it from craft shops)
Tissue paper, gift wrap to cover floral foam
Instructions:
Lift the cuff & flatten the baby sock
Beginning at the toe edge, softly roll to the top of the sock. The roll doesn't need to be tight.
Take the top edge (on the heel side or bottom of the roll as you view the photo above) and turn it over onto the roll.
Twiddle a little with the shape until you have your desired flower form. Gently pull the center to form a longer center or smooch it a little for a flatter blossom. Whatever structure you want really!
I reckon you could try this project with some baby bibs or face towel even. You can replace the tissue paper with Get creative!
DIY tutorial found here: