Infants and small children don't regulate their temperature the same way adults do, which is why it's often necessary to (over) bundle them up during the colder days. Blank Clothing sells quality wholesale clothing online for a variety of uses from everyday wear to special occasions, and we're constantly on the look out for different ways to get you cool and functional styles for less. As we expand, check back often to see what we've got on offer that's both new and now.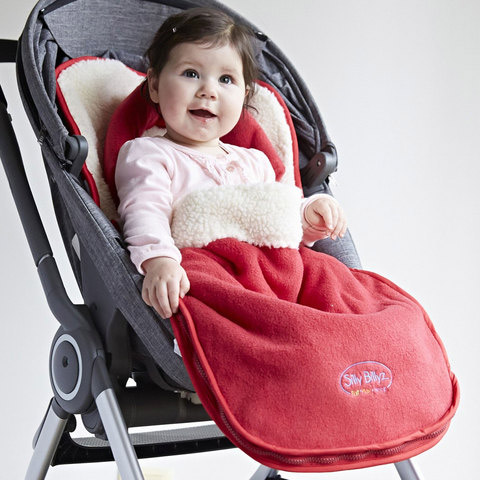 It's a Brand New Day
Picture yourself on one of your first walks after bringing your child home. You're excited to start your new life as a parent and nervous about keeping them safe. Your child gets messy and subsequently your house gets messy, but one way you can stay in control is by keeping things clean, fresh and fun from your own clothing to your kid's gear. When you zip up your fleece hoodie and head out, you stay warm despite the fall or winter breeze. It may not make as much sense to put your newborn into a miniature hoodie just yet though, which is why this sleeping bag is a way to keep your infant warm and feeling secure on their first few outings.
A Smart Solution
Check out our selection of outfits and accessories for your child like Silly Billyz brand sleeping bag. It's perfect for both the car seat and pram, and is modelled after Sherpa fleece (faux fur.) Easily washable and stain resistant (a must with small children), it also features a polycotton backing. This means it's durable enough to stand up to a lot of washings, wear and accidents. Fits into the majority of 3 and 5 point harness car seats or prams, and also has head support to keep your baby extra comfortable. You can take the zip cover off to give your baby extra padding during summer and put it back on to keep the wind off during winter. Blankets can fall off or be thrown off by a fussy child, but this sleeping bag stays on no matter what the elements throw at you.
Wrap It Up
Blank Clothing may be the premier bulk wholesaler in Australia, but there are no restrictions on how many you need to buy. Whether you want to get this for all of the new mother's to peruse in your area or you just want one, you'll get a lot of use out of this bag. With free shipping on orders over $199 and reasonable shipping rates otherwise, you can find fantastic deals when you buy in bulk. Buy a few in a variety of colours and keep your kids looking fashionable and feeling cosy!