You don't have to put on sweats to cook a meal or even just do general housework. Looking good while going about your daily tasks can help give you confidence and feel more efficient. Keep your clothes safe, dry and clean from flour, stains, dust and dirt. Visit Blank Clothing for a variety of aprons for cooking or even just daily chores.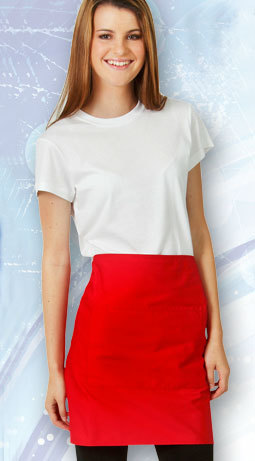 The Thoughtful Choice
For all the true culinary fanatics, it's convenient to have an assortment of aprons. Especially if people are constantly trying out new recipes and techniques, they're bound to get a little dirty. Aprons make great gifts and help protect clothing as cooks of all kinds whip, chop, and dice their way to dinner. Blank Clothing aprons are all blank, but you can easily make it a personal item with your own sayings or designs. Skillet makes an adorable short waist easy-careapron that comes with a pouch pocket for storing valuables or tools. Choose from the many colours available or get several to mix and match with a variety of outfits. For the men there is this tough looking denim full bib apron from BRONX. With reinforced pockets and adjustable metal buckles, it is fashionable and durable.
If You Can Handle the Heat, Stay In the Kitchen
Having the right knives, pans, or appliances isn't a guarantee that people will actually use them; however, they can really encourage people to take the next steps towards improving their skills. Home-cooked food is cheaper than going out, and typically much better for you. We don't always remember that when we just don't feel up to a long, complicated recipe, after a hard day at work. If you have the right accessories surrounding you, then you may be more likely to see what you have in the pantry. Try the denim full apron, which is artfully made with contrast stitching and has two front pockets to inspire you to get a more healthy (and flavourful) lifestyle.
Get Your Kids In the Game
Cooking with kids is so important for their development, and sometimes all it takes to get them involved is a new present. If you're searching for kid's clothing then get them a plain black or white full apron from Baker can get them excited to assist you in the kitchen. Cooking is an invaluable skill and when your child gets out on their own, they'll be glad you made them learn their way around an oven. Who knows? You might have a culinary super-star when you get them started so young.
Find Everything You Need With Blank Clothing
When you need wholesale clothing online, we have it all. We sell men's clothing and women's clothing for all of Australia. You can find polo shirts, t-shirts and hoodies here for large-scale events or just as a one-off treat. There's no minimum to buy and both our products and shipping rates are extremely affordable. Check here first the next time you need cute clothes from quality brands.