Polo shirts may be one of the most versatile and classic summer garments you can own—so why not take full advantage of that fact? This spring and summer, try dressing your polo shirt in seven new ways, so you can enjoy it all season long. Here are 6 tips for wearing a polo shirt this summer.
1) Choosing The Right Material
Choosing the right material is key to looking and feeling great in a polo shirt. The fabric should be breathable, lightweight, and easy to maintain. Some examples of materials that work well for polos are cotton, linen, silk, polyester blends and polyester.
These fabrics not only look good but also feel good against your skin. If you're going for the more casual or laid back vibe then consider choosing a jersey knit polo with shorter sleeves, or an embroidered polo shirt. If you're looking to dress it up then choose an oxford weave cotton or linen blend with long sleeves polo and make sure to wear a collar-style tee underneath so your outfit stays on point. It's important to know what kind of mood you're trying to set by choosing the right material; if you want something more low-key then go with a more casual piece like a vintage mesh plaid polo. However, if you want to play it safe then stick with a solid color polo. Also, remember that whatever style of polo shirt you choose can always be dressed up or down based on what you pair it with!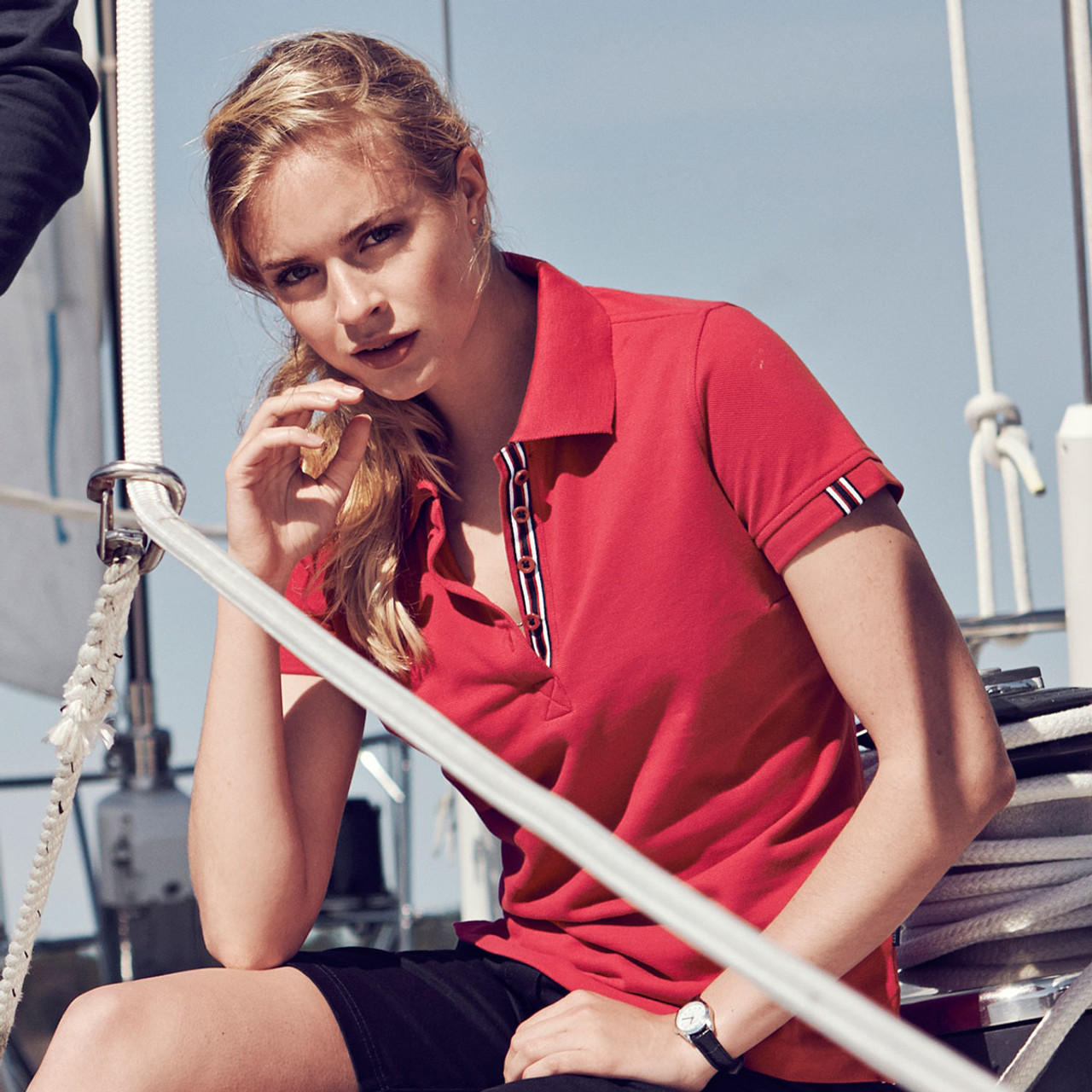 2) Choose A sized Fit
Choose A size that's comfortable for you. If your shirt is too tight, it'll be hard to wear it anyway but tucked in. Too loose, and the sleeves will droop down on the sides of your arms, and the shirt may be too long in the torso for you. Aim for a fit that is just snug enough so that you can move around comfortably without feeling restricted or as if you're wearing a sack.
3) What Shoes To Pair With Your Polo Shirts
The best shoes to wear with a polo shirt depend on the occasion. If you're wearing your polo shirt to work or school, dress it up with a nice pair of dress shoes. Dress shoes are great for work, but they can also be paired with jeans and a t-shirt if you're dressing more casual. Sandals are also another great choice to wear with your polo shirt depending on the weather. Consider the heel height when choosing sandals so that you don't walk around uncomfortably all day. Choose heels high enough to elongate your legs while still being comfortable enough to walk in. Heels with a thicker platform will help make any foot feel better at the end of the day because it will help ease pressure from having to stand for long periods of time.
4) Throw on Some Accessories
Polo shirts are a great base for accessories. Add a belt, scarf, hat, or some other item to make it uniquely your own. Wear a white polo shirt with sneakers and sandals for an edgy look; with dark denim jeans and boots for more of a casual approach; with suit pants and dress shoes for the office; with chinos and espadrilles for that summer BBQ feel; or with linen trousers and boat shoes in the warmer months. Put on a bowtie, matching pocket square, and slacks if you want to be truly dapper. The sky's the limit when it comes to how you can style this versatile piece.
5) Don't Overdo It
Polo shirts are a great way to add a little extra polish to your casual summer look but don't wear them every day. It can come off as stuffy and unapproachable. Instead, mix it up with other styles like short sleeve shirts, t-shirts, button-down shirts, and even sweaters for variety and to keep your wardrobe fresh!
6) Keep it Simple and Casual
The best way to wear a polo shirt is by keeping it simple and casual. Throw on a plain t-shirt and jeans or shorts, and you're good to go.
Conclusion
Wearing a polo shirt is an easy way to look put together, while still feeling casual and comfortable. And with the right styling, you can make it work for any occasion. Plus, they come in so many fun colors that it's hard to not find something you like! So get out there and wear your shirts with confidence this summer!